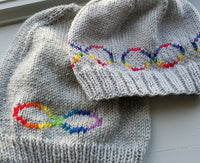 A Celebration in Stitches
was created to celebrate neurodiversity and to promote autism acceptance and awareness through the display of autism-related symbols. As the proud parent of an amazing autistic child, I wanted to use my knitting ability to give other people a way to show their support for autism acceptance and for the autistic people in their lives.
When I started my journey to learn about autism, I thought the puzzle piece was the symbol for autism awareness. Then I learned from the autistic community that it is not accepted by many Autistics as a symbol for autism because of the demeaning historical connotations associated with its use to symbolize autism. I absolutely do not believe that autistic people are missing anything or suffering from a mysterious condition. I hope that my heart design composed of puzzle pieces shows that all the pieces are supposed to be together; they can't be separated. The love I feel for my daughter encompasses everything about her, including her autism. If she wasn't autistic, she wouldn't be the same person and I love her just as she is.